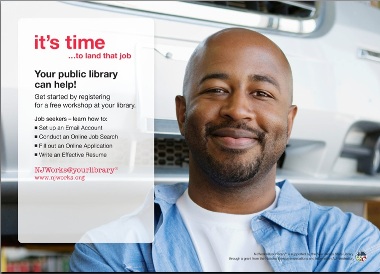 NJWorks@yourlibrary: It's time…to land that job!
New Jersey public libraries are positioned to help job seekers search for employment opportunities and improve their skills. In partnership with the New Jersey Community College Consortium, local public libraries across the state are currently offering a variety of classes, teaching: basic computer skills; how to conduct online job searches and fill out online applications; professional email account set up and etiquette; and effective writing for resumes and cover letters. Residents can gain 24/7 access to powerful career and educational databases including LearningExpress' Job & Career Accelerator, Gale Cengage's Career Transitions and McGraw Hill's GED Online. Residents can also select from a collection of over 400 career videos designed to provide interactive training and allow participants to address individual employment-related issues at their own pace.
For more information, visit www.njworks.org.